By Jeson C. Candole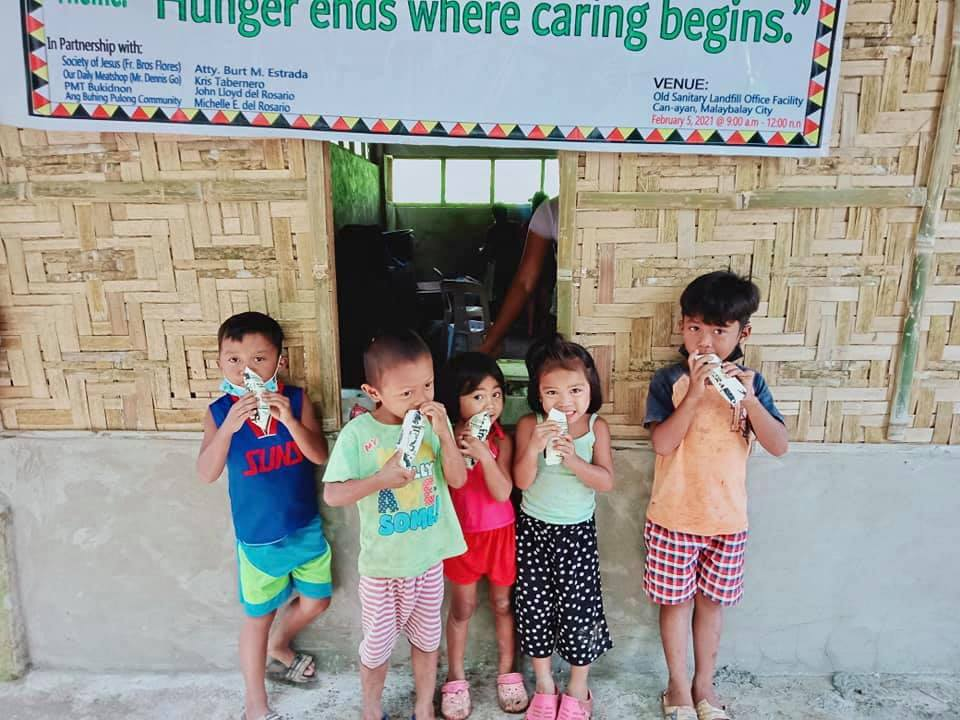 10 August 2021 — The Department of Agriculture-Philippine Carabao Center at Central Mindanao University (DA-PCC at CMU) extended supplementary support to the Feeding Program under the "Walang Iwanan" project of Gawad Kalinga (GK) Bukidnon Chapter launched last July 1.
Said program with the theme, "Hunger ends where caring begins" was spearheaded by GK Bukidnon Chapter and Bukidnon Tagoloan Mulahaya Ha Kabukalagan Agriculture Cooperative (BUKTAMACO) in partnership with DA-PCC at CMU.
As a supplementary component in the feeding program, the DA-PCC at CMU will provide 2,900 sachets of 200 ml pasteurized carabao's milk every day for 40 feeding days to beneficiaries in the vulnerable sector, which include children, pregnant, and senior citizens from select barangays in Bukidnon identified by GK.
DA-PCC at CMU Center Director Dr. Lowell Paraguas said helping each other overcome this pandemic with various means will go a long way.
"We advocate the bayanihan spirit, walang iwanan, serbisyo muna bago benepisyo para sa Diyos at bayan," Dr. Paraguas added.
"Walang iwanan (leave no one behind) is our commitment to the poor. It is a testament of patriotism fueled by faith. Insha'allah (God willing), together, we can end this poverty," GK Executive Director Dan Bercasio said.
Moreover, GK Chairman Luis Oquiňena shared that GK is building a nation empowered by people with faith and patriotism; a nation made up of caring and sharing communities, dedicated to eradicate poverty and restore human dignity.
"We aim to engage at least 20,000 barangays through our platforms of solidarity, resulting in millions of lives transformed and their stories told. We are called to be heroes for the poorest. You are a part of that growing army," Oquiňena added.
Harvey Maraguinot, head of GK in Mindanao, said the kindness of DA-PCC boosts their morale to continue helping those less fortunate despite the risk of being exposed to the virus.
"We commend and appreciate DA-PCC's contribution to this cause. It only shows how much our efforts are valued and we feel even more inspired to continue our advocacy to achieve zero hunger nation," Maraguinot concluded.
Photo (c) Gawad Kalinga